Dating back to 1350, Trinity Hall is one of the oldest of the Cambridge Colleges, it offers a stunning, historic setting for conferences, meetings, dinners and special events alongside state-of-the-art conference and hybrid meeting solutions at its central WYNG Gardens site.
As one of the few riverside Colleges, Trinity Hall is the perfect venue in which to enjoy a quintessential Cambridge experience. Host a garden party on Latham Lawn or take a punting tour from the College's private mooring - it's a unique and memorable addition to any event, as well as an ideal way to wind down after a busy day  Trinity Hall also offers a range of overnight accommodation during the College vacations.
Five reasons to book Trinity Hall:
It's an architectural feast for the eyes, including the stunning Front Court with intricate Georgian facades; a medieval Dining Hall with a high-vaulted, timber-framed ceiling; a Tudor Old Library (the oldest in Cambridge in its original setting); and, the iconic Jerwood Library whose arch-like structure overlooks the River Cam.
Beautiful riverside setting including a magnificently manicured lawn - an ideal setting for drinks receptions, garden parties and punting.
Hybrid meeting solutions and a range of flexible conference rooms.
First-class conference and catering facilities and an event team with more than 60 years of experience in the business.
Renowned for the warmth of the welcome and the attentiveness to guests.   
Venue Insight
We caught up with Ella Garner-McVey, Conference & Events Manager at Trinity Hall, to find out more about her role at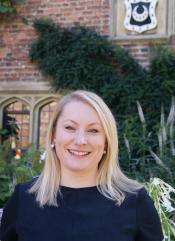 theCollege...
I've worked within the Conference & Events team at Trinity Hall for more than 11 years and it's been so rewarding to see the conference business grow and to be able to host such a wide range of events at College. Trinity Hall is such a warm and welcoming College and it's the team here that really makes the job so worthwhile – from our front of house team and kitchen team to all our support and admin staff. Customer service is at the forefront of everything that we do and it shows. It's also a privilege to work in such a stunning, historic setting!
Who has been your most memorable conference and event guest?
The most memorable guest that I have had the privilege to meet would have to be the Dalai Lama. He came to visit Trinity Hall back in 2013 (feels like yesterday). The Dalai Lama has so much warmth and such an infectious smile - just this incredible positive energy! I feel so honoured to have met him. I also enjoy meeting Trinity Hall Alumni, many of whom return to College for reunions or to host dinners and celebratory events. Our Alumni have such wonderful stories of the College to share (some from many years ago) and have gone on to lead such interesting and varied lives.
What can a conference or event organiser expect when booking an event at Trinity Hall?
Whether you're a returning client, or completely new to the College, we will work closely with you to plan the perfect, stress-free event at Trinity Hall. We're committed to providing the very best experience and receive fantastic feedback from our clients on our customer service, and our conference and catering facilities. If you're considering holding an event at Trinity Hall, we'd be delighted to give you a tour of the College. It makes such a difference to see the College in person and also helps you to plan future events you may wish to hold at Trinity Hall.