10 Reasons to Use Meet Cambridge:
1. Our venue-finding service is free and there is no obligation to book if you make an enquiry.
2. It's our aim to find the perfect setting for your event and you'll find our service welcoming, customer-orientated, efficient, independent and professional.
3. Our service is easy to use, saves you time and is available to anyone and everyone.
4. You'll benefit from our knowledge – no-one knows the city as well as we do; we know all the best and secret places. We're here to help you make it easy to bring your event to Cambridge.
5. We offer the best route to booking a Cambridge College or other great venues in the city.
6. We'll happily organise a site visit for you and your colleagues so you can see what our venues offer first-hand.
7. For large events that may need multiple venues, we offer free administration services, giving you a single point of contact and standard terms and conditions to streamline booking and payment.
8. We offer assistance with all aspects of organisation, from promotion, registration and finding the right speaker to collating papers and post-event evaluation.
9. We are commended for our international welcome and host thousands of events each year for audiences from around the globe.
10. You will receive outstanding support from event teams at our venues, from your first site visit throughout your event and beyond.
Why Use Our Services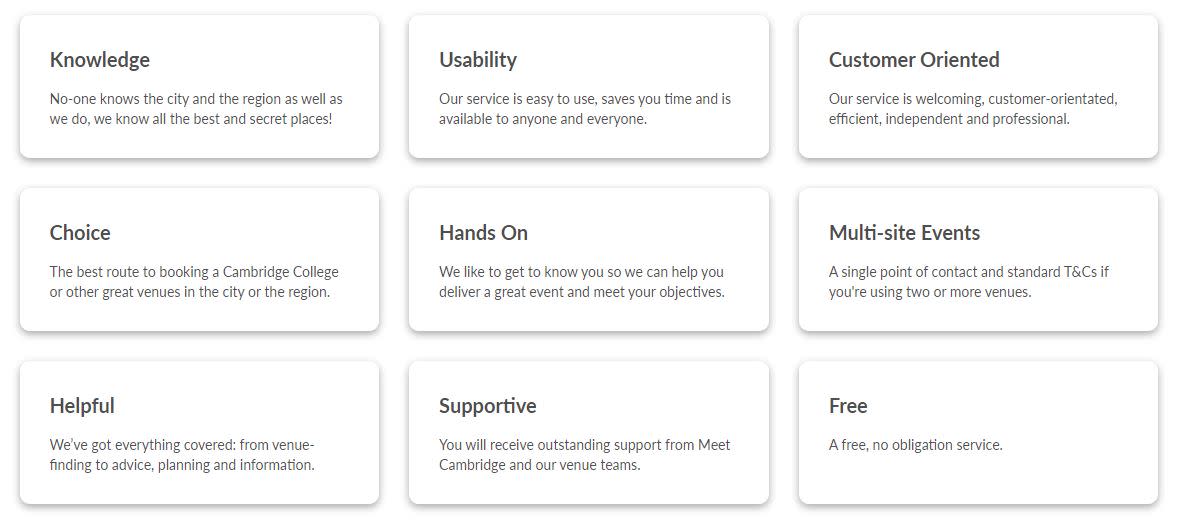 Price Guide
Meet Cambridge works on behalf of the Cambridge Colleges, a number of University departments, hotels and other unique venues in and around the city.
Our 2023 guide for room hire prices, delegate rates, and conference prices at our academic venues can be found here.
Exact prices should be checked with the venue of your choice and will depend upon the facilities provided.
Booking and cancellation terms vary at each venue. Exact booking and cancellation terms should be checked and agreed with the venue of your choice before contracts are signed
Create a unique experience with multiple venues, we offer free administration…