The Pitt Building is one of Cambridge's premier conference venues and offers an outstanding range of professional meeting facilities. This historic building, located in the city centre, successfully combines a historical atmosphere with first-class hospitality and offers a flexible choice of seven superb meeting rooms. 
Completed in 1833, the building housed the printing and publishing offices of Cambridge University Press for over 100 years. It has now been renovated to the highest standards and offers conference, meeting and hybrid facilities for between 2 and 250 people. 
Five reasons to use The Pitt Building:
Located in the heart of Cambridge, the wonderful sights of the city lie just beyond the front door.
The building offers a superb combination of well-equipped training, meeting and syndicate rooms, all of which have been designed with flexibility in mind.
The Oriel Room is a stunning meeting where every book and journal published by Cambridge University Press receives its official stamp of approval.
The Pitt Building offers year-round availability and is becoming an increasingly popular venue for public art exhibitions.
Day delegate rates include delicious and bespoke catering packages that are fresh, seasonal and local.                                              

Sustainable Fact!
Vegware compostable packaging is used for all snacks and refreshments.
Venue Insight!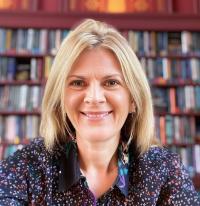 We spoke to Kate Wain, Sales Development Manager at the Pitt Building to find out more about this unique venue...
Tell us something we might not know about the Pitt Building…
The Pitt Building is sometimes referred to as the 'Fresher's Church' because in the eyes of new undergraduates it resembles a church building.
What was your most memorable event…
One of the highlights of my professional career was to welcome The Prince of Wales to the Pitt Building.  There was great excitement amongst the team on the morning of his visit and thanks to everyone's hard work it all went to plan. He was charming, showed a real interest in the history of the building and was delighted with the local honey we sourced for his tea!
What are the benefits of hosting an event at the Pitt Building?
The greatest asset of the Pitt Building is undoubtedly our loyal and hardworking team. We work so well together behind the scenes and pride ourselves on maintaining consistently high levels of customer service.  When you hold an event at the Pitt Building you are certainly in safe and knowledgeable hands.
What can you offer for clients who are looking for hybrid options?
We have invested in several hybrid meeting options and will always talk these through carefully with our clients to fully understand their needs.  From 'Teams' meeting rooms to our new Meeting Owl Pro, to large scale video and hybrid conferencing options, we will endeavour to offer the very best meeting solutions.
What can a delegate expect when attending an event at the Pitt Building?
Delegates can expect a warm welcome, an excellent standard of meeting room and of course a delicious lunch!