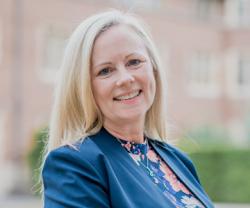 The Acting Manager of Cambridge's official, free venue-finding service has been shortlisted for a national award in recognition of her outstanding achievements over the last year.

Judith Sloane, who heads up Meet Cambridge, has been included in the miaList, an annual tribute by the Meetings Industry Association to the UK's leading event professionals.

Taking over at the helm at the start of lockdown, she will now go forward to a final virtual interview with the team of judges, after which the winners will be announced in December.

Judith was nominated by her colleagues, as well as members of the Meet Cambridge portfolio, who praised her innovative and intuitive approach to supporting the 50-plus venues during COVID-19 when meetings and events have been strictly curtailed.

This has included the setting up of regular virtual 'Huddles' for venues to meet and share experiences and solutions; providing timely Government and industry updates on guidelines; and bringing in specialist providers to help venues looking to hold virtual and hybrid events.

Judith said: "I was thrilled to be nominated and now shortlisted for the miaList and to hear the lovely comments my team and our members contributed to the award entry. The meetings industry has experienced unprecedented challenges over the last months and it has been a pleasure to be able to support our venues by bringing them together, even if only virtually.

"Our member venues are enthusiastic and positive about reintroducing face-to-face events as and when we can safely, so we can share our wonderful city and its unique venues with business visitors again."

The Meetings Industry Association is the UK's leading trade association for business, meetings and events.