Homerton College's beautiful new dining hall is open for business and, from the clusters of students revising in the Buttery, to the conference delegates choosing meals through the servery counter, it has seamlessly become an integral part of College life.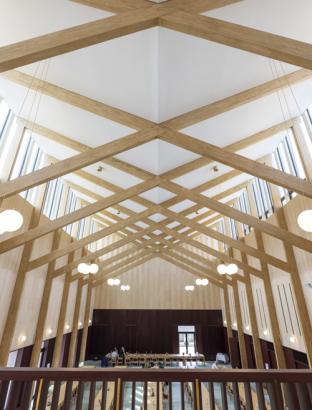 The Homerton Catering Team supplies high-quality, nutritious meals for College members every day. They also cater for numerous internal and external events, and now have a fabulous new facility in which to do so, for up to 250 diners.  Outside of term time, the new dining hall is available for external hire for events such as awards dinners, Christmas parties and gala dinners. It is also used daily for communal dining for breakfast. Guests can select dishes from the servery counter and island.
Six architectural practices submitted concepts for the new building. The submissions were all quite different in approach, but the favoured proposal was from Feilden Fowles, an architectural practice based in Southwark. Founders Fergus Feilden and Edmund Fowles, both Cambridge graduates, have delivered a range of buildings across the UK, producing architecture that is rich in character and distinct in identity.
Architect Edmund Fowles, says: "It's fairly unique in Cambridge to have such an open site with expansive landscaped gardens, so that was a very important influence, leading to a very porous design that opens up to its surroundings. We rotated the hall 90 degrees from the orientation of the Great Hall so that the longest elevation faces the mature trees and meadow to the south. Most halls are very solid and have heavy timber at the base, whereas here you walk in and are immediately met by the views out and lots of light filtering down from the high-level windows."
Their final design celebrates the integrity and inherent beauty of materials and craftsmanship, featuring decorative elements that are a product of the natural beauty of hand craftsmanship, embracing new methods of construction and engineering technologies of today; designing an Arts and Crafts building for the 21st Century.