A dull event can be a painful experience! Clock watching delegates, counting the seconds until they can escape to the bar or bed, is a nightmare scenario to avoid.
So how do you ensure your event delegates are engaged throughout? Your aim should be to hold a vibrant, inspiring event full of enthusiasm, discussion and collaboration. A top-class function means the venue is crackling with positive energy leaving guests thirsty for more and itching to give positive feedback.
So where do you start the task of keeping your conference delegates engaged? We've put together seven handy tips and tricks to keep you on track…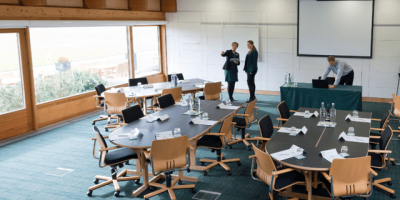 Plan, plan and plan some more
Good pre-event planning is absolutely essential if you are to deliver a high-quality function which fully engages your guests. Discuss with your event planner why you are holding the event, your budget and what you would like to get out of it.
Are you showcasing your business to potential customers? Perhaps you are looking to recruit? Or maybe it's a team building away day to strengthen relationships within your company. Whatever the reason, you should have pre-agreed metrics to assess the outcomes and whether the event has been a success.
If you can make contact with your guests prior to the day then so much the better – through a survey or questions at registration, pick their brains about topics they'd like to cover and preferred format. A consultative approach is always a winner for delegates, and you'll be armed with ideas for how to make your event sparkle.
First impressions matter
Always keep in mind the old saying: "You never get a second chance to make a first impression."
Make an effort to greet and mingle with your guests, discuss the event, the schedule and their preferences. An energetic, warm reception from the Guest Services Manager can ensure an engaging start for your delegates, that will set the tone for the whole function.
Consider appropriate outfits for the event type – is it suited to smart-casual or is formal dress required? Getting the attire right is key to winning over your delegates the moment they step into your venue.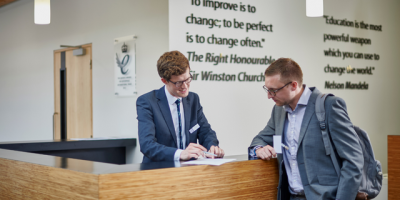 Everyone loves a freebie!
Freebies are a fantastic way to make a positive impact on your event delegates and create a good first impression. Complimentary pads and pens not only ensure guests are ready for note taking, but they also provide a company branded keepsake to ensure your business remains front of mind long after your guests depart. If you want to be more adventurous with your freebies, consider gifts that have longer term use. Branded thermos flasks, USB sticks and laptop bags are all worth considering.
Take regular breaks
Taking regular breaks during any work related task is key to reenergising the brain, so every corporate event planner should allow for regular intervals during the function. Make sure your venue of choice has catering options like superfoods to stimulate the mind, as well as hydration stations to ensure that delegates are well watered throughout. Well aired break out rooms offering a relaxing space to recharge in between sessions are also a winner.
Explore new technologies
One sure fire way to inspire your delegates is by enriching your event with high quality, engaging content. Conduct a technology audit when you are choosing your venue to ensure your content has the ability to deliver key messages powerfully. Technology such as UHD TV screens and high-quality speakers are a must if your content is to land with maximum effect.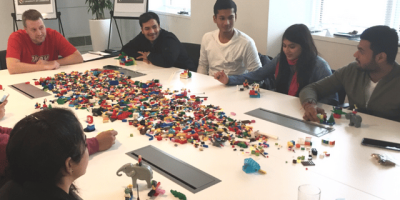 Make your event interactive
Variety is crucial when it comes to keeping your delegates energised. A formulaic event with keynote speaker after keynote speaker will lose your audience, resulting in boredom and clock watching. Mix up your event with interactive sessions involving the audience. Ice breakers and role play are great methods of making the delegates feel part of the event as well as boosting interaction. Split off into meeting rooms for smaller, energising, interactive group sessions to keep energy levels high and morale tip top.
Take away the hassle
Taking away any hassle and admin from your delegates means they can focus all their energies on contributing to the event – making it a more engaging experience for all attendees.  When planning your function, make sure you've tied up all the loose ends for your guests. These can include confirming accommodation and transfers to and from the train station or airport. If your venue has free parking available, then allocate spaces prior to the big day to make registration smooth and efficient.
If your event delegates are staying over, they may require a private dinner, so check convenient dining times with them prior to the event before delivering written confirmation of their booking.
There is no such thing as over communicating and confirming all of the finer details with your delegates before event day means they'll arrive relaxed and ready to engage.
Request feedback
So, after all of your efforts to ensure you delegates were engaged, how can you tell whether your event was a success and you picked the right Corporate Events Package?
Keep the lines of communication with your delegates open. Request feedback and ask which areas of your conference or meeting hit the right notes. Include event topics, format and keynote speakers as well as the venue including accommodation, catering and technology.
Your delegates will appreciate the fact that you are continuing to engage with them post-event and you will be rich with new ideas for next time.