Today is World Mental Health Day and it's great to hear that, in the UK, we'll now have a dedicated Minister for Suicide Prevention. Mental Health is creeping up on everyone's agenda and we know that in our sector, events and hospitality, the pressure and long, anti-social hours are having a marked impact.
At Meet Cambridge, we are proud to support CPSL MIND and as part of our ongoing fundraising efforts, we'd like to invite you to help us raise awareness, in our community, of mental health issues and to promote the work of this fantastic charity.
As part of our 20th Birthday Celebrations (YES, we are planning to have a year of celebrations!), we're hosting an event at Kettle's Yard in Cambridge on Wednesday 7th November 2018 and hope you can join us.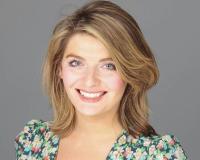 We have a fantastic keynote speaker, best-selling author and Telegraph journalist, Bryony Gordon, who will discuss her books, her  relationship with mental illness and recovering in the public eye.
Following the great success of The Wrong Knickers and Mad Girl, in her new, typically funny, and hugely inspiring memoir, Eat, Drink, Run - How I Got Fit Without Going Too Mad, Bryony shows us how extraordinary things can happen to us all, no matter what life throws at us, if we're just willing to keep going...
Thanks to Speakers Corner!
 
We're offering a Pinkster Gin cocktail on arrival, exclusive access to the new Kettle's Yard exhibits, delicious drinks & canapes and the chance to win an exceptional experience with a free ticket to our charity raffle – all for £15!
With help from generous sponsors, Kettle's Yard. Pinksters Gin & Cambridge Dining Company , 100% of your ticket price will go to the charity.
 
Can't Believe We're Twenty!
Meet Cambridge, previously Conference Cambridge was set up by Charles Crawford (then Bursar at St Catharine's College) and a handful of other Bursars, in 1998, who recognised a need to have a central enquiry point for people looking to host events in Cambridge.
I joined in 2004 – so I wasn't here at the very beginning, but there are several Conference Managers and Bursars, still in post today, that were.
In 2004, we were two; we took about 20 enquiries a week, that we circulated by fax and we had a printed brochure.
Now, we can take 20 enquiries in an hour on a busy day.
The number of enquiries taken each year has steadily increased and the mix of events hosted has diversified from academic conferences to all kinds of events – from corporate meetings to private dining, naming ceremonies, and filming to international association congresses.
The portfolio is very different too – Meet Cambridge now represents non-academic properties too, as part of a partnership with Visit Cambridge & Beyond, promoting the region for business events locally, nationally and internationally. It's great to have such a wide range of venues – something to suit every taste and budget.
Our membership now comprises some 75 partners – a fantastic mix of Colleges, hotels, dedicated conference centres, country houses, museums and other unique properties in and around Cambridge.
And we're super excited to be reaching out other areas in our region like Newmarket, Peterborough and Bury St Edmunds to see how can work more closely in the future.
Our free venue-finding service continues to evolve and as well as collating proposals for clients, we can't wait to introduce you to My Event, our client extranet that will be coming shorty – which will speed up the response times, which we know is important!
Now at 20 years old, Meet Cambridge is so much more than a venue-finding service.
We provide a free multisite service, for planners using 2 or more venues; we have a great ambassador programme, which supports anyone who wants to bring their association event to Cambridge and the region; we have a handy planners' toolkit and an extensive network of event suppliers, as well as an event management partner, Suzy Howes & associates ltd.
We're still a relatively small team, but we deliver tangible business benefits to our venue members and we promote the region through a wide range of marketing efforts.
I count myself blessed to have the most amazing colleagues in Judith, Anta, Leah, Laura and Sahar.
I'm immensely proud of the wider impact our efforts have through the events that have happened and will happen in and around Cambridge.
Because, it's not just about delegate numbers and room-nights; the ripples of influence of great events are far reaching. Let's not forget the legacy of events, what they actually achieve for organisers, participants and host communities.
Events are central to the global economy and the underlying scientific, professional, academic, business and social advancements that drive it.
Meet Cambridge is dedicated to helping host events that facilitate knowledge transfer, innovation, collaboration and advancement, which all contribute to progress.
Face-to-face meetings are more relevant than ever, in a world where our communications are increasingly faceless.
Today, we read about over-tourism, the challenges faced with living and working in a medieval city limited term-time availability in academic venues and the increasing rates of hotel accommodation, so it's even more important that we work collaboratively with our members and stakeholders to strategically plan how we can attract events and business visitors to our city to ensure maximum positive impact to keep Cambridge and the region at the top of the destination charts.
Here's to the next 20 years!
Meet Cambridge can help you find a venue and host the perfect event in Cambridge.
You can make an enquiry by: