Winter is the perfect time for a meeting in Cambridge, the daylight might be scarce and the trees a little bare, but there's still much to discover and the city remains as picturesque as ever so why not bring the team together in a cosy meeting room in Cambridge where you can shut the world out and focus on the agenda in hand.  From warm and welcoming, wood panelled historic rooms to comforting, contemporary spaces, we've checked out some of cosiest in town!
Named after Matthew Parker, a former archbishop of Canterbury, Master of Corpus (and by all accounts, the original 'nosey parker') this room is the perfect setting for a small conference, meeting or served dinner. Dating back to the College's foundation in 1352, it offers views of the oldest inhabited court in Cambridge and the College Chapel.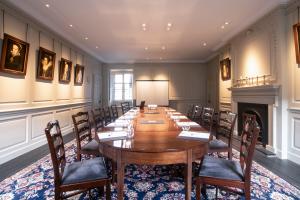 An inviting and quiet space for small business meetings and networking events.  The room is filled with comfy armchairs where guests can nestle up amongst the books.  The room also incorporates a mouth-watering Graze Station , making it perfect for breakout sessions too.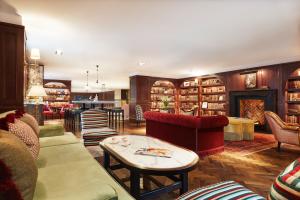 A delightful room, panelled with pine, giving the room a warm, rich feel. It is an ideal setting for formal dinners for small conferences, seating up to 36 delegates. The room opens onto the Minstrels' Gallery where guests can get a bird's eye view of the stunning Hall below, when not in use.
A traditional light wood-panelled room with large bay windows overlooking historic Gonville Court and the College Chapel, and for those that like to tinkle the ivories, it's also home to one of Old Courts' three pianos!  The room can accommodate a wide range of meeting and dining styles for up to 30 guests or up to 60 for a standing reception.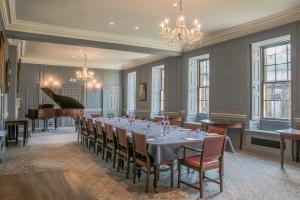 Overlooking its own private garden, this suite features relaxing green leather sofas and vibrant soft furnishings which complement the interesting artwork. Exposed light brickwork is warmed with dark woods and low lighting.  The room is perfect as a breakout or for a small, informal meeting and it can be set in a variety of styles to suit your programme. The adjoining Drawing Room is ideal for refreshments and lunches.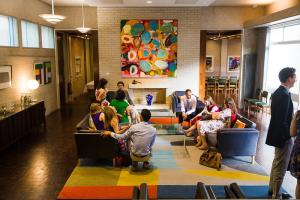 Situated in one of the oldest parts of the College and named after Dr John Chetwode, a Fellow of the College in the 18th century, who bequeathed the fine marble fireplace, dark wood panelling and large table, the Chetwode Room is an impressive setting for a meeting seating up to 16 boardroom style in high back leather chairs.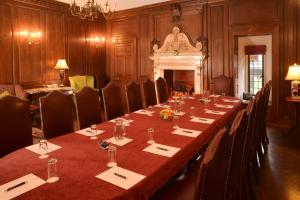 One of Cambridge's newest meeting rooms, the Hawking Suite is named in honour of Stephen Hawking. The space is perfect for inspiring meetings, intimate events, and private dining. With ample room for up to 10 people, it's a comfortable and stylish space with excellent access.  Meeting facilities include a 75-inch LCD display with Barco Clickshare.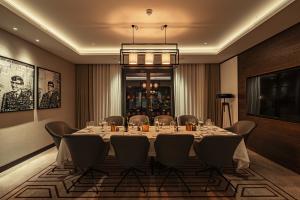 A room with the most unusual name! On the first floor of Madingley Hall, a stunning 16th-century country house, the Doghole has a fixed boardroom-style table seating up to 14. The room features historic panelling and a large, open fireplace – a cosy setting just outside the city.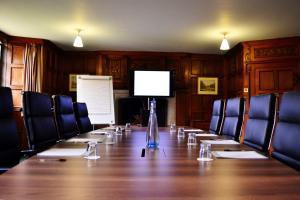 Decorated in traditional style, the Bourn Suite offers a flexible work and gathering space. With glass sliding walls and views of the River Cam, it's the perfect space to hold interviews and one-to-one conversations or perhaps a small meeting room for the day.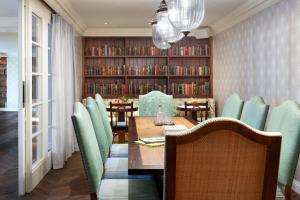 The charming and very traditional, the Saltmarsh Rooms are situated on the first floor of King's College offering amazing views of the Chapel, Courtyard and Front Lawn.  They offer a unique and historic setting for meetings and private dining.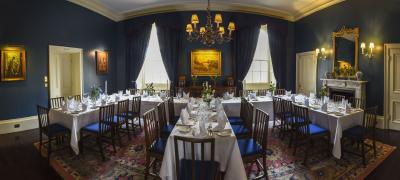 Featuring contemporary wooden panelling, the Cockcroft Room has an inviting and calming atmosphere with large windows overlooking the Master's Lawn. It's a versatile space suited to boardroom-style meetings for up to 20 and with the adjacent Drawing Room for lunch and refreshments, it's the perfect solution for events that need to be private and self-contained.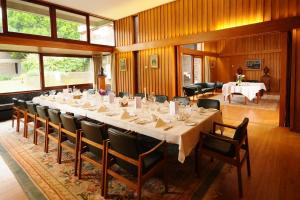 The Old Senior Combination Room was where the College Fellows would meet to discuss and exchange ideas. Now it serves as an impressive dining room, where the oak-panelled walls, fireplace, beamed ceiling, chandeliers, stained glass windows and richly coloured carpet create opulent surroundings for private parties.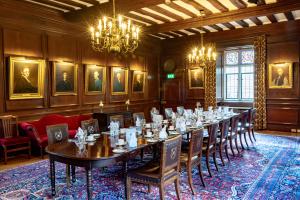 Meet Cambridge can help you find a venue and host the perfect event in Cambridge.
You can make an enquiry by: