If you've been tasked with organising your office's upcoming festive party, we're here to help you find the perfect venue! Whether you're planning a celebration for Christmas, Diwali, Hanukkah, Kwanzaa, or Bodhi Day, and whether you're in search of a formal sit-down meal or a more casual dining experience, our venues have something to suit every palate and budget. Take a look at the current options from just some of our venues below, and stay tuned as we continue to add more exciting offers.
Get ready to celebrate the most magical time of the year at Fitzwilliam College. Offering an extravaganza filled with joy, warmth, and unforgettable memories, the team will help you spread the holiday cheer amongst your colleagues.
What they have in store for you:
Festive spacious Dining Hall to accommodate your lunch/dinner.
Delicious holiday inspired menus crafted by the talented chefs.
Friendly and professional staff to ensure a seamless experience.         
Menu options:
Formal Festive Dinner:
Indulge in an elegant, sophisticated dining experience with a sumptuous 3 course meal, designed to delight your taste buds and make your evening truly special.
Carvery Lunch/Dinner:
Enjoy a delicious array of roasted meats, accompanied by an array of delectable sides, perfect for a relaxed friendly Festive Feast.
Whether you are planning a corporate dinner or a social event, Fitzwilliam College is the perfect place to make your festive celebration extraordinary.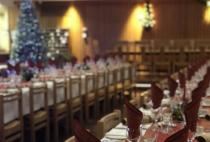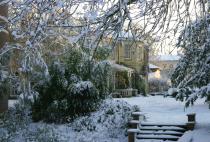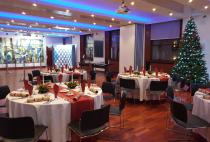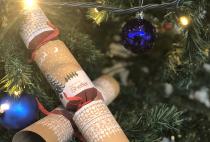 Limited slots available! Book now to secure your preferred date and make this holiday season truly special.
Do you like it shaken or stirred? Join Newmarket Racecourses this year for their suave and sophisticated 'Diamonds Are Forever' Christmas party.
Experience all the glamour of a secret service mission and enjoy a festive '007' themed evening starting with a welcome drink, three course meal, entertainment and then dance the night away with their resident DJ until the early hours.
So, grab your tuxedo or ball gown and get ready for a Christmas party like no other!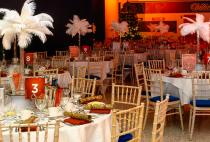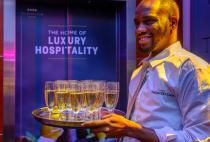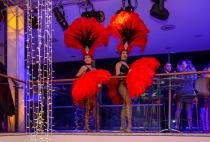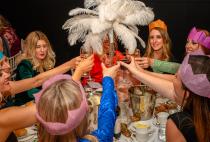 In the heart of Cambridge, in the city's oldest hotel, discover a vibrant, contemporary venue for private events — grand in scale, but personal in the details. There are few halls in Cambridge that compare with the grandeur and charm of the University Arms Ballroom — a wood-panelled room that belongs to our city's heritage. Natural light spills in through huge stained-glass windows decorated with college crests, with views looking out over the city's iconic Parker's Piece. The Ballroom is the perfect space for parties and large events, accommodating up to 180 seated guests or 200 standing.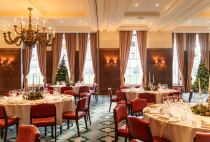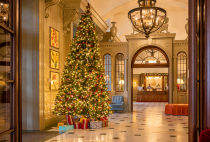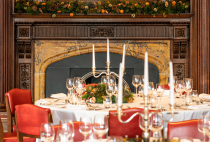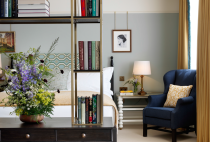 Have your tickets ready because you will be flying first class with IWM Duxford this festive season. On arrival to the terminal at 7pm you will be greeted by cabin crew who will assist in checking your luggage, before guiding you down the runway into the AirSpace Hangar for a glass of bubbles under the wings of world famous, iconic aircraft. Once you are well and truly prepared for take-off, you'll then be invited to board your tables in the festive themed Conservation Hall for an exceptional three course menu to ensure your holiday celebrations are truly unforgettable. But that's not all; after stocking up on your in-flight meals, spread your wings and take to the tarmac to dance the night away.
Private:
25th November - 23rd December (250 Minimum - 700 Maximum)
Shared:
30th November, 13th December, 16th December (400 Minimum - 700 Maximum)
Prices start from £62.50pp +VAT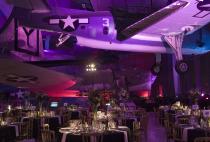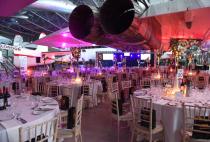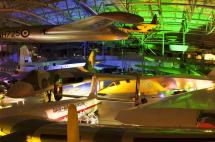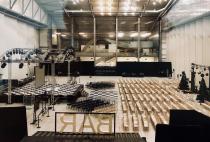 Indulge in the festive spirit at The Varsity Hotel & Spa, where enchanting seasonal celebrations come to life in the inviting ambience of SIX Brasserie and the upscale charm of River Bar Steakhouse and Grill. From intimate gatherings to grand exclusive events, The Varsity Hotel & Spa can cater to all party sizes with pricing options flexibly adapted to your chosen dates, ensuring your party is tailored to perfection. Available from Monday, 27th November 27th, to Friday, 22nd December, secure your spot on the holiday calendar.

Elevate your holiday festivities with Graduate Cambridge, an idyllic retreat overlooking the River Cam. Inspired by centuries of rich, local traditions and academic life, the hotel is the perfect venue to celebrate the season.
Whether you're planning a party for six guests or a larger celebration, you and your colleagues are invited to indulge in a festive three-course feast from the grill-focused restaurant, Garden House.
Be the early bird that catches the festive worm by securing your spot on the holiday calendar. Available dates are from 1st November, 2023, to 31st January, 2024.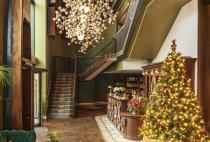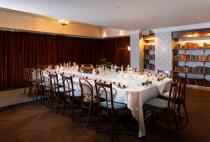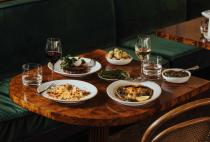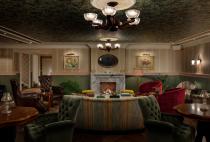 Embrace the elegance of Westminster College. With a range of options to choose from, this unique venue can accommodate parties of 12 to 118 guests. You also have the opportunity to revel in the distinguished atmosphere of high table. Alternatively, you can opt for a shared party extravaganza on the 9th of December as you celebrate in the company of others.
All prices include room hire.
Private function Christmas Parties can be booked any time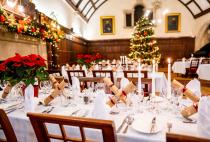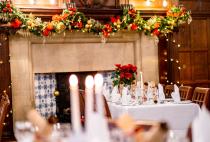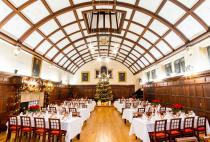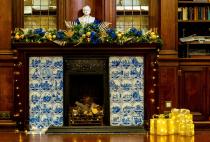 The festive season is a time for making memories. Hilton Cambridge City Centre, pride themselves on knowing how to throw a great party, so let them take away the stress of the holiday season for you. From festive gatherings to New Year's Eve celebrations, they have the festive season all wrapped up! So, sit back, relax and enjoy this joyous time of the year.
Festive Banquet:
It's a time for celebration; bringing people together; eating lavishly and enjoying a special moment. When it comes to showcasing festive spirit and making it all happen, there's no better place to enjoy the season.
Disco Fever Joiner Party: 
This festive season get your dancing shoes ready to party through the decades. Hilton Cambridge City Centre will be taking you through the 70s, 80s & 90s. Start the night with a glass of bubbles followed by a three-course dinner and finish the night dancing to the disco classic's with our resident DJ, and strike your best pose in the photo booth.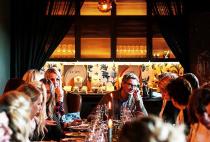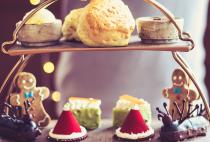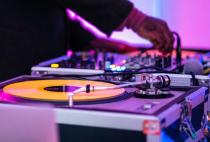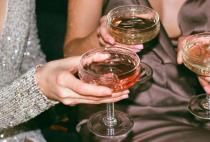 Elevate your winter festivities with a touch of timeless elegance at Gonville & Caius College. Available from 3rd to the 22nd December, you and your colleagues will enjoy a meticulously crafted three-course festive menu, complete with aromatic coffee, tasty mince pies, and the fun snap of crackers.
Prices start from just £49.80 +VAT. 
For those seeking a complete experience, embrace the heart of the city with on site accommodation, starting at just £77.50 +VAT, Gonville & Caius College ensures your winter celebration is nothing short of magical.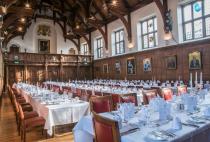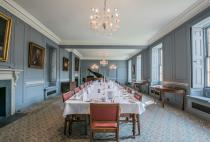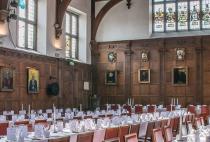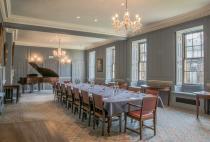 This year Newnham College are offering festive parties in their stunning College Hall, providing a beautiful back drop for your joyous event – be it a lunch or a dinner.  The Hall can comfortably seat up to 150.
Tempting menus have been put together by the Executive Head Chef and are complimented by an extensive wine list and attentive service by our dedicated catering team. A fabulous location for your seasonal event.
Smaller rooms are also available for more intimate parties.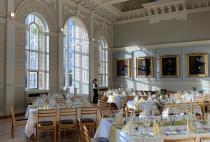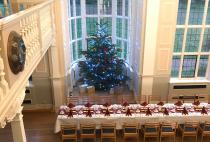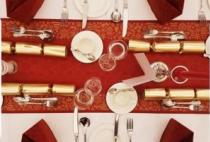 Discover the elegance and tradition of St. Catharine's College. Whether you're planning an intimate gathering or a grand celebration, this stunning venue provide the perfect backdrop for your occasion. Their exquisite Menu promises a delightful culinary journey featuring three delectable courses, accompanied by the warmth of freshly brewed coffee and indulgent mince pies as well as the popping fun of crackers. Available exclusively throughout the month of December, St. Catharine's College offers an exceptional way to savour the holidays in a truly iconic Cambridge setting.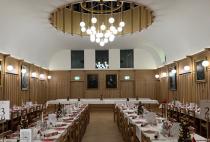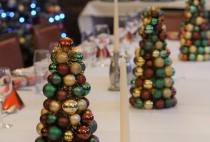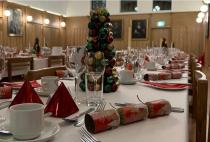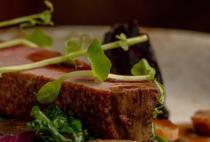 Whether you are hosting an intimate or extravagant festive party, the Cambridge Union is the perfect venue.
Keynes & Fairfax Packages
Whether you're wanting a casual evening with a buffet menu or a formal sit down meal, the Keynes Library and Fairfax Rhodes Room are perfect for celebratory drinks and festive food. The Fairfax Rhodes Room features beautiful high arched ceilings and large windows - a stunning setting for an intimate Christmas celebration. 30 - 60 people.
Chamber Packages
Steeped in history, the Debating Chamber is one of only five in the country with its design based on the Commons Chamber at the Palace of Westminster, The Chamber is the most unusual and stunning of rooms in which to host your Christmas dinner whether it is a buffet or a 3-course meal. 60 - 120 people seated.
Footlights Cellar Drinks Reception Package
Cambridge's best kept secret, inspired by what originated in the basement of the Cambridge Union in the 1960's as the Cambridge Footlights, now hosts exciting events. 50 - 120 people.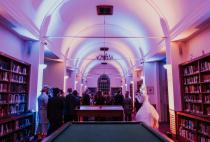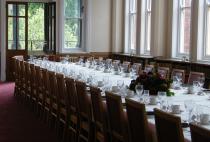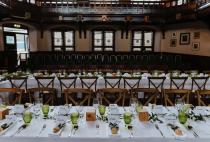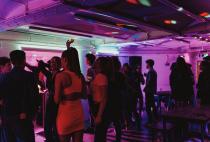 Discover a festive haven at Clayton Hotel Cambridge where unforgettable celebrations come to life. From Thursday, 23rd November to Thursday, 21st December, you and your colleagues are invited to enjoy the holiday spirit and elegance of Clayton Hotel or, for those looking to extend the merriment into January where Fridays and Saturdays are available upon request.
Diners can indulge in a culinary journey with beautifully thought out menus that include a 3-course feast starting at £49.95 per person, complemented by tea, coffee, and mince pies and includes crackers. 
You can also customise your celebration with optional add-ons. Choose to dance the night away with the in-house DJ or step onto the hired dancefloor with your own playlist.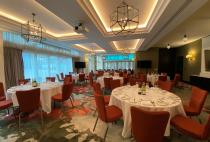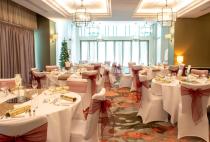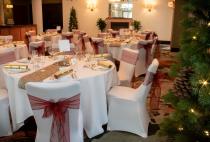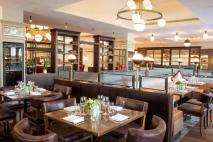 Following an extensive refurbishment project, Clare College are thrilled to announce that the Small Hall and Great Hall are back in action, just in time to make your holiday season truly memorable. Adorned with fresh furniture, new paint, and exquisite gold leafing, both Halls have been meticulously revitalised for your special occasion.
Envision your festive celebration in the splendid Small Hall, accommodating up to 44 guests, or embrace the  grandeur of the Great Hall which is ready to host a maximum of 147 guests.
This festive season, indulge in culinary delights with a meticulously crafted seasonal menu and choose between a 3-course meal, complete with coffee and mince pies, priced at £57.50 + VAT per person, or elevate your dining experience with a lavish 4-course option, available at £70.40 + VAT per person.
Book now and relish the charm of these revitalised Halls that stand ready to welcome you with open doors.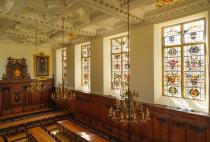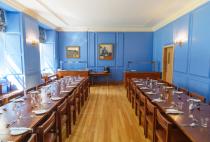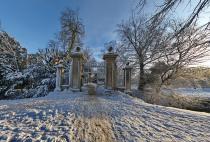 Welcome to the enchanting world of Hinxton Hall's festive celebration! Your journey begins with a tasty menu priced at £60 per person, complete with an enticing array of options. To elevate your experience, explore their three optional drinks packages that promise to add a touch of sparkle to your festivities.
With a generous capacity to accommodate up to 300 guests, Hinxton Hall becomes your canvas for a memorable holiday gathering and includes a noteworthy feature of your colleagues being able to create their own culinary experience by having a choice from two starters, two mains, and two desserts.
Guests can also extend their celebrations with overnight on site accommodation or enjoy unwinding in comfort after the festivities and relishing every moment of their stay.
Currently, Hinxton Hall have no fixed date ranges and welcome enquiries for any date you have in mind. Embrace the flexibility of hosting your festive event whenever suits you best. Your journey to a magical holiday experience starts here.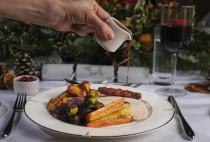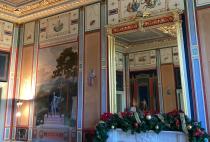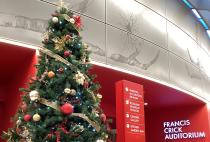 Don't forget that Meet Cambridge can also help you find a venue and host the perfect event in Cambridge.
You can make an enquiry by: