Hinxton Hall Conference Centre blends an impressive modern event space, featuring an auditorium for up to 300 delegates, with period meeting and dining rooms in Hinxton Hall itself. After recently investing in the latest AV equipment and with in house AV technicans, Hinxton Hall are able to help with hybrid and virtual events. A range of accommodation is available on site in comfortable and stylish bedrooms. Delegates can unwind by taking a stroll through the parkland or relax in one of the lounges or residents' bar. 
Ten reasons why you should use Hinxton Hall for your next event:
Capacity for up to 300 delegates in the Francis Crick Auditorium.
Green, open spaces in attractive heritage parkland.
A mix of modern and period meeting rooms.
A knowledgeable team with over 40 years' combined experience.
An event management service to support meeting organisation for virtual, hyrbid and in-person events.
Professional audio-visual equipment, supported by a skilled AV team with the experience to ensure you event is delivered to the highest standards.
Located alongside research institutions that are at the forefront of the biomedical revolution and home to life changing scientific history.
Poster boards and exhibition facilities set under a stunning glass domed ceiling.
Complimentary parking for 140 cars and bicycle spaces with secure access.
Varied menus incorporating fresh, seasonal ingredients designed around wellbing and meeting clients' needs.

Sustainable Fact!
The Hinxton Hall Conference Centre team plant new trees in the grounds surrounding the Conference Centre to contribute towards carbon offsetting of events, including 26 native species planted in Autumn 2021.

Venue Insight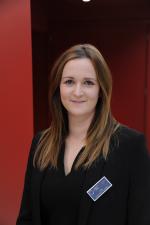 We caught up with Kelly Butler, Conference and Events Manager at Hinxton Hall, who told us about her most memorable event and explained how they can help clients who are looking to hold hybrid and virtual events. 
Tell us about your role and how long you have been at Hinxton Hall?
My role as Conference and Events Manager is to oversee the day-to-day running of the events taking place at the Conference Centre. I have a team of three event organisers and one administrator, and when we are fully operational we run over 500 events a year.  This includes anything from a small meeting of five to a large residential conference with exhibitors for up to 300. I have been working at Hinxton Hall for nine years in total, three years in my current role and six years as a Conference and Events Organiser.  
Tell us about one of your most memorable events...
One of my most memorable events was for the PURA Foundation, who hosted a conference for the families of children that have PURA Syndrome to share new research and bringing them together with researchers and clinicians.

We worked closely with the organiser who flew in from Australia on a number of occasions as the event detail was so important and each family required something slightly different from the next. A lot of the planning went into the accommodation as families were travelling with siblings or grandparents, so our normal single use occupancy rooms became family rooms or medical rooms. This is where our event management service played an integral part of the planning process.

During the conference itself, we turned our event space into a comfy, relaxing area with pillows and duvets to ensure the children were comfortable whilst the parents took it in turns to attend the talks and speak to researchers specialising in the rare genetic disease. We provided a variety of lunches to accommodate the children who were not able to eat solid foods, and games at dinner times for the siblings to enjoy too.

It was so different to any event I had planned before and knowing just how much it meant to the families attending, many of whom had travelled from across the world; it is something that I will never forget being a part of.
What can you offer for clients looking for hybrid and virtual events?
We have recently invested in a range of new AV equipment to support both small hybrid meetings and large-scale hybrid conferences. Not only does this equip us well to host hybrid events of a high, professional AV standard, it is also more cost effective for our clients, as it removes the need to hire in additional equipment, which can be very expensive.

Our in-house AV team have created a secure conference portal that can be used for hybrid and virtual events that, alongside the obvious broadcasting of events, gives clients access to virtual networking areas, Q&A sessions, and easy sharing of posters, agendas, speaker biographies.

We have been offering this online conference portal service for two years now, and it's very flexible: we can build bespoke packages to suit the client's event needs, and are able to provide additional, specialist equipment as well as more AV technicians, if and when needed.
What are the benefits of holding a hybrid or virtual event at Hinxton Hall?
Our experienced in-house AV team have run over 120 virtual and hybrid conferences during 2020-2021. They have a wealth of knowledge and plenty of practice when it comes to taking your event online. And importantly, nowadays, with the portal ready to go it is easy to switch your event from hybrid to virtual, if circumstances change.

We also have a fully portable hybrid equipment system that can be easily transported to any of our rooms, allowing flexibility for all meeting sizes. Our Auditorium is equipped with a professional control room which allows the technicians to deliver a smooth and seamless AV, and both our Auditorium and Rosalind Franklin Pavilion come with an in-house AV technician included in the hire price.
How do you facilitate interaction at hybrid events for both those in house and those participating remotely?
There are several ways in which we facilitate delegate interaction, both remote and in person, at hybrid events: For example, we utilise a product called SpatialChat, a proximity-based networking application, to enable delegates to 'move around' networking events as you might in person, meet each other (virtually) and chat.  Then, for Q&A sessions, all attendees can use the same systems to respond; in-person delegates on their phones and online attendees can use the portal to ask questions and vote in polls.  A camera crew and host can also walk around exhibitions visiting exhibitors, whilst remote delegates send in questions for the host to ask. And the Conference Centre boasts a large Exhibition Space that lends itself well to installing extra AV kit, such as electric poster boards, which allow sessions to include remote delegates to interact with live participants.  As you can see, our team are tech savvy and relish the challenge of helping organisers bring their events into the world of modern AV!