Fitzwilliam College is set in 7 acres of grounds and located just a 10-minute walk from Cambridge city centre. With purpose-built meeting rooms suitable for up to 250 delegates and over 300 bedrooms, Fitzwilliam College is ideal for day meetings and residential conferences. Meeting rooms are equipped with a range of audio-visual equipment and the assistance of a dedicated AV technician can be arranged to be on hand for the duration of your event. 
What makes Fitzwilliam College unique:
The Auditorium, praised for its acoustics, has a RIBA Award, a Concrete Society Award and the Brick Development Association Award for Building of the Year. 
With 16 meeting rooms on-site, Fitzwilliam College is able to host events of all sizes.
The College is home to the Olisa Library Tower, said to be the highest point in Cambridge.
The Grove, a beautiful Regency, Grade II listed house in the grounds, was occupied by Emma Darwin, wife of Charles Darwin. 
On-site accommodation and car parking are available. 

Sustainable Fact!
Fitzwilliam chefs use locally sourced food wherever possible, and sustainably stocked fish. The gardeners grow many vegetables on site which are often used in the kitchen or given to students and staff.

Venue Insight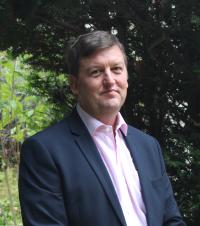 We caught up with Robert Clarke, Head of Catering & Events to find out about his role and what Fitzwilliam College can offer for meetings and events.
Tell us about your role at Fitzwilliam College...
I have been working at Fitzwilliam College since 2011. I started on a 3 month fixed term contract and never left!. I began life here as the Catering Manager then in 2016 I took on the responsibility for all conferences and events. . I oversee around 35 full time and 20 casual staff. Together we manage all things catering ranging from coffee shop sandwiches and buttery lunches to College formal halls and feasts, along with refreshments for meetings, buffets dinners and BBQs for commercial clients. The Events Office sells, manages, facilitates and coordinates all of the bookings.
What can you offer for clients looking for residential conferences or day meetings?
We have an extensive array of meeting rooms of varying sizes ranging from small seminar rooms suitable for 10 people up to our large auditorium which can accommodate up to 240 delegates. All of these rooms are located on the same site, within a short walk of one another. Our catering is in house and in addition to refreshments throughout the day, we can offer a choice of hot or cold lunch followed by a formal evening dinner should it be required.

 Accommodation is also located on site so delegates can wake up, take a short stroll to enjoy breakfast in our dining hall before starting their meeting. We have a coffee shop that delegates are welcome to use should they require a break during the day and of course, they are very welcome to enjoy our beautiful gardens if they wish to take a breakout session outside.
What are the benefits of holding an event at Fitzwilliam?
Our dedicated Events team take the time to understand clients specific needs in order to provide a personal service and exceed their expectations.  We are located a short walk from Cambridge city centre, and we can offer free parking on site.