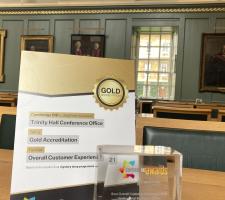 The Events Team at Trinity Hall is celebrating after receiving two awards from Cambridge BID including Gold for Overall Customer Service and Runner-Up for Overall Customer Experience in the category of Professional Business. 
Ella Garner-McVey, Conference Manager at Trinity Hall, said: "These awards are testament to our high standards of customer care at Trinity Hall. A big thank you to all the team here whose dedication to providing the best customer service in 2021, a challenging year for us all, has been rightfully recognised.  Over the past few months we have been excited to be able to welcome more and more people back for in-person meetings, dinners and special events – we've missed you!"
The awards are the result of a Mystery Shop programme that Cambridge BID organises each year to give participating businesses a unique insight into customer perspectives. Cambridge BID promotes Cambridge as a global city and a world-class experience for all who visit, live and work in Cambridge.